News and Press
The administration Building of Ilagan Water District (ILA-WD) was built on August 2012 under the initiative of a service oriented Board of Directors and Management of ILA-WD...
Over the past several months, City Of Ilagan Water District (ICWD) management has been working with the projects and rehabilitation of some areas that are waterless. Several suggestions were provided and many will be incorporated...
Water Quality refers to the chemical, physical and biological characteristic of water...
Developments
Connecting to City Of Ilagan Water District is now easy! We posted our customer service hotlines and email for your concerns. We are most welcome to serve you!
Filtration is a biological process in water treatment in which undesirable elements are removed, resulting to a safe and potable water that conforms with the Philippine National Standards for Drinking Water (PNSDW)...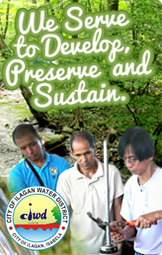 Announcement
October 11, 2014
The ILA-WD Management is implementing the ONE-MONTH DISCONNECTION POLICY. Please be informed that effective November 2013, ILA-WD Technical Team is authorized to compel the disconnection order after the due date stated in the billing statement